Palisades Community Center News: October, 2018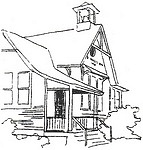 PALISADES COMMUNITY CENTER
675 Oak Tree Road
FINE ANTIQUES & COLLECTIBLES SALE
Friday, October 27 6:00-8:00 pm.
Saturday & Sunday October 28 & 29 9:00 am - 3:00 pm.
Folk Art, Early American, Modern, Mid-Century, Asian Antiques, Arts & Crafts
Lots of Furniture, Artwork, Toys, Fine Crystal, Ceramics, Heirloom Silver, Tapestries, Vintage Clothing, Jewelry and Furs, Oriental Rugs, and much more!
Donations for our PCC table are gratefully accepted
Interested vendors, e-mail Eileen Larkin a.s.a.p. at ileenog@aol.com
SCARECROWS & PUMPKINS
Our Annual Family event returns for its 10th year!
Sunday, October 28 Noon-2:00 pm.
Come create a Scarecrow masterpiece to live on our front lawn and carve that messy pumpkin with us!
Watch for more details via e-mail!
Annual Holiday Craft Bazaar
Saturday, November 10
10:00 am - 4:00 pm.
Beautiful crafts in time for holiday gift giving, by artisan crafters of the Hudson Valley.
Interested crafters please e-mail: PCC@palisadesny.com
Join Us!
PALISADES COMMUNITY CONCERT SERIES
November Date TBA
Our exciting new music series is produced by Palisades resident Shelby Yamin. Shelby will be joined by fellow colleagues and professional musicians of Palisades.
November concert program and ticket information TBA.
For further information, e-mail PCC@palisadesny.com.
MANHATTAN SHORT Film Festival Returns!
You are a judge!
Saturday, October 6
7:00 pm.
Doors open at 6:30 pm.
Advance Sale $20
PCC members $17
At the Door $25 (Includes wine and snacks)
9 short films, all under 15 minutes in length, selected from 1,565 entries from 73 countries. All filmgoers will decide the winning film by voting for their favorite short. Many previous films have gone on to be Oscar nominees and winners.

This is a sell out event, so purchase your tickets early!
PCC@PalisadesNY.com or www.brownpapertickets.com
Annual Winter Coat and Pet Supply Drop Off: October 28 - November 4 9:00 am - 5:00 pm.
Coats, sweaters, boots, scarves, etc. for ALL ages and non-perishable food for People to People. Pet food, old towels and bedding for Hi-Tor Animal Shelter. Let's make sure everyone stays warm this winter!
FALL CLASS SCHEDULE
Visit our website at www.palisadescc.org
Board members: Carol Baxter, President, Carol Knudson, Secretary, Andrew Nelson, Treasurer, Michele Balm, Keith Buterbaugh, Leo Keegan, Jeff Levine, Lynne Sandhaus, Honorary Board member: Virginia McCauley
Rental Coordinator: Eileen Larkin, Ileenog@aol.com
845.359.6589
Website: www.palisadescc.org