The Esplanade: A Palisades Residence for Seniors
Most of us had a look at the attractive lobby and large, cosy living room of the Esplanade when we voted on November 5th. In the future, if age and debility make staying in our own homes impractical, some of us may consider the idea of moving there. Some of my friends are already residents. I decided to write this article to answer questions about the Esplanade and how it came here.
The history of the Esplanade starts with a small Manhattan-based Jewish charitable organization named Gemiluth Chessed of Greater New York. The aim of the organization was to help Jewish refugees from Europe during World War II. Gemiluth Chessed, which means "Doing Good Deeds" in Hebrew, had its own constituency in the city. The organization's Board of Directors realized that in the future these people would need a residence for senior citizens. In the late 1950s Gemiluth Chessed purchased land in Suffern and Nanuet, but local residents made it clear that Jews would not be welcome. In Suffern Gemiluth Chessed went to court to fight the tactics of those who didn't want them there. However, before the case was decided, a local judge who had ties with the Gemiluth Chessed Board of Directors found property in Palisades for them. In 1960 they bought 22 acres of the Perry estate for $100,000. Architect Bill Kohl's clever design for the building has few straight lines and maximizes the best possible views from the apartment windows.
When it opened in 1970, as Palisades Gardens, all the residents were Jewish and the food was kosher. In 2001 the facility became difficult for Gemiluth Chessed to support and it was sold to the Scharf family. The Esplanade in Palisades is now owned by Susan Scharf Diamond, who renovated the building after it was purchased and opened it as a non-sectarian community. Former residents were allowed to stay and to continue paying the same low rent they had paid before the name change.
At present, there are 120 residents in 94 apartments. Some are studio apartments and there are also one and two bedroom apartments. Studio apartments rent for $3650 a month; one bedroom apartments for approximately $4200 a month, and this fee includes three meals a day, housekeeping, transportation to shops and doctor appointments, utilities and cable television, as well as daily recreational and cultural activities. Each apartment has a bathroom and kitchenette with a small refrigerator and sink. Hearthstone, an adjunct to the Esplanade which is located upstairs, offers care to those with a dementia.
Residents have many activities to choose from. There are classes in flower arranging, art, yoga, Zumba, jewelry making, knitting and crocheting, using the computer, and a balance class. Afternoon entertainment by musicians and other performers is offered several days a week. Residents can attend lectures; two recent ones were on Current Events and on Women of New York. Films are shown nearly every day at the residence, and there are trips to local movie houses to see current films. Residents have a wide choice of organized games: bridge; mah jongg; scrabble; canasta; and poker. Recent trips to sites of interest have included visits to the Metropolitan Museum of Art, the 911 Museum, the Frick and West Point. There is a small library on the premises, and a newsletter written by residents.
It can be a busy life. Joyce Rogers, Director of Marketing, told me, "What we do is to offer opportunities to become involved in activities." Joyce has been at the Esplanade for eight years. Lynn Kerrigan, the social worker at the facility, came eight and a half years ago. The Director of Activities, Karen Roth, arrived ten years ago and Marvin Ammer, General Director, has been at the residence for 41 years. Elisabeth Trubiroha, Director of Housekeeping, has been there the longest — 42 years. All five staff members say that they like to come to work and feel that the Esplanade is their second home.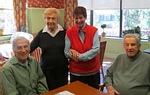 I spoke with several residents. Lively, friendly Florence Cohen is the oldest at age 99. She came to the Esplanade four years ago with her husband, who has since died. Florence's two children, who live in the area, persuaded her and her husband to move to Palisades from Florida. At first the transition was difficult but now she feels safe and protected. Everything is taken care of and she has many good friends.
Joseph Holzer, 88, has been at the Esplanade longer than any other resident; he arrived in 2007. His son and daughter, who live nearby, persuaded him to move here. Joseph came to the US at the age of 15 from Austria and drove a tank during World War II. He managed a supermarket in Riverdale for 25 years and describes himself as an optimist who has no complaints about the Esplanade. Joseph told me that a lot of people complain about the food but "I always tell them it's not the Waldorf Astoria."
Gerri Miras, who is in her eighties and was a school principal, moved into the Esplanade six months ago. As a widow living alone, she worried about things like a tree falling on her house. Now she lives in an attractive two-room apartment with a view of grass and trees. She has her own piano, still drives, plays tennis twice a week, and is glad she made the move. She still keeps up with her old friends but has made new friends at the Esplanade.
Gus Babalis, who is 88 and used to teach, also moved in about six months ago, and also still drives. He moved to the senior residence because he realized that he was beginning to isolate himself — he was living alone in an apartment in Nyack — and that he needed more people around him. Gus has many friends in the area and spends time with them, often eating out. He has met a number of friendly, interesting people at the Esplanade.
Mary and Harold Nash, 88 and 95, moved to the Esplanade five and a half years ago, after Mary's medical problems made living in their own home difficult. They enjoy the walks they take every morning before breakfast and have explored the whole neighborhood. Mary does yoga every day and Harold paints, his long-time avocation.
The youngest residents are in their early eighties. Those I spoke to — not just those I interviewed — have a high opinion of the staff, of the activities, and of the cleanliness and attractiveness of the building.
I interviewed the staff as well. Joyce told me that she is humbled by the resilience and sense of humor shown by some residents. Karen emphasized the importance of a warm hug, something all of us need. Marvin talked about the fact that although the residence is now a for-profit business, the owners don't skimp. Problems are addressed immediately. Special requests, such as a car to take people to the doctor or a poker table, are attended to right away; the Esplanade now has a beautiful wooden poker table. He says that it's uncommon to have cooperative owners who go out of their way to accommodate residents.
Elizabeth told me how happy she was when the Scharf family bought the facility and Susan Scharf Diamond opened the place up. From being an enclave, it became a real mixed community with residents having different faiths, ethnicities, and backgrounds.
The Esplanade offers an affordable, high-quality alternative for those who are not happy living alone and no longer feel capable of the chores and responsibilities that go with home ownership. An experienced, caring staff works together to make life safe, stimulating and pleasant for the residents. They reach out to the community by inviting Palisadians to some entertainments, and by lending their space for voting and for Library seminars. The Esplanade welcomes visitors; go take a look for yourself.