Palisades Community Center (PCC) News: Dec.2013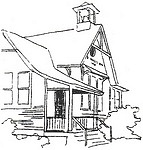 Thanks to your financial, goods and services donations and volunteer involvement, we have come a long way with our restoration projects. Our last phase is the installation of a handicap bathroom and a renovated kitchen (that is currently unusable.) With your help we can achieve this goal!
Palisades Indoor Winter Farmers' Market Returns
Saturday, Jan 17 9:00am-1:00pm!
As we plan for our 6th season, we are lining up our favorite farmers and have a waiting list of new guest vendors! Stay tuned. Your support enables us to bring the farms to you all winter long. See you there!
MARK YOUR CALENDARS!
December 8 Annual Holiday Gift Bazaar 10:00am-4:00pm
December 13, 14 & 15 French Table Linen Sale 10:00am-5:00pm
December 22 14th Annual Holiday Caroling followed by pizza party with Santa.
Meet at 11 Horne Tooke Road at 5:15pm sharp. Sheet music provided.
For information, contact Michele Balm at miepbalm@aol.com
December 26, 27 & 30 and Jan. 2 & 3 Sewing Camp 10:00am-2:00pm with So You Design Studio. To register, e-mail Vivian at soyoustudio@gmail.com
ON-GOING CLASSES
For info e-mail PCC@Palisadesny.com
Monday
Youth Sewing, 4:00-6:00
Tuesday
Body Toning 9:30-10:30am
Youth Yoga 5:30-6:30pm
Okinawa Karate
Youth 7:00pm
Adults 8:30pm

Thursday
Body Toning 9:30-10:30am
Adult Art 1:00 3:00pm
Youth Art 3:30-5:20pm
Pilates 5:30-6:15pm
Okinawa Karate
Youth 7:00pm
Adults 8:30pm
BECOME A 2014 PCC MEMBER!
Your membership supports our restoration efforts and our educational programming. To welcome you as a member, you will receive a coupon for two Balthazar Pain au Chocolat, redeemable at our Farmers' Market.
Membership $25 Individual $40 Family $15 Senior Citizen Make checks payable to: Palisades Community Center PO Box 222 Palisades, N.Y. 10964
Additional donations to our Restoration Campaign are greatly appreciated. Our next project is a handicap bathroom and a new kitchen. You can help!
Palisades Community Center
Board members:
Carol Baxter, President
Alice Buchanan, V. P.
C. Andrew Nelson, Treasurer
Carol Knudson, Secretary
Michele Balm
Mary Ann Brueckner
Lyn Fowler
Dr. Leo Keegan
Michael Tersigni
Honorary Board member:
Dr. Virginia McCauley
Rental Coordinator:
Eileen Larkin
359-6589
Ileenog@aol.com
Mailing Address:
PO Box 222
Palisades, N.Y. 10964
Join our e-mail list for schedule of events and Palisades alerts:
PCC@palisadesny.com
PCC Website: www.Palisadescc.org
Farmers' Market website: www.Palisadesfm.org