PALISADES PRESBYTERIAN CHURCH NEWS: May 2015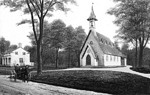 Palisades Presbyterian Church Annual Strawberry Festival
The Palisades Presbyterian Church will host its annual strawberry festival on Saturday, June 13, from 2:00 – 6:00 pm, rain or shine.
Come join us as we serve up our delicious strawberry shortcake with homemade whipped cream – a truly memorable treat! Quarts of tasty strawberries will also be on sale.
It is an afternoon for the whole family, including a pocket lady, face painting, and crafts for the kids. For more information, please contact the church office at 845-359-3147.
General Information
Sunday Worship Service: 10:00 am
Sunday School: 10:00 am.
Sunday Chats: On the fourth Sunday of each month join the pastor for conversation about the sermon, current events, or anything else that is on your mind. We will meet by the couches in the Parish House after worship.
Bible Study: Wednesday 12:15 - 1:30 pm
Choir Rehearsal: Thursday 8:00 pm
Sanctuary Healing Service: every 3rd Sunday of the month at 11:30 am a Sanctuary Healing Service will take place. Prayer for the healing of body, mind and spirit. Whether you are in need of healing or you wish to pray on behalf of someone else, you are most welcome to join us.
117 Washington Spring Road
PO Box 687
Palisades, NY 10964
845-359-3147
ppc10964@gmail.com
www.palpresny.com

Please check out our new Facebook page! www.facebook.com/ThePalisadesPresbyterianChurch
Pastor: Reverend Angela Maddalone
Secretary: Jackie Johanson
Office Hours: Tuesday and Thursday, 9:00 am to 2:00 pm