Palisades Presbyterian Church News, October 2013
Palisades Presbyterian Church to Celebrate its 150th Anniversary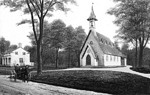 The Palisades Presbyterian Church located on Washington Spring Road in Snedens Landing will celebrate its 150th anniversary beginning this October.
The subject of forming a Presbyterian Church in Palisades began in 1860 with Mr. Charles F. Park and Dr. C. R. Agnew deciding they could no longer tolerate the absence of religious services on the Sabbath while at their country homes in Palisades.
However, it was not until the spring of 1863 that a definite plan for organizing the Palisades Presbyterian Church was matured. The Palisades Presbyterian Church was pronounced organized by the Presbytery of New York City on October 14, 1863. The lot upon which the church is situated was given to the church as a portion of his donation to the new enterprise by Mr. Park. The sanctuary was dedicated on January 17, 1864. It was through the work and vision of a small but faithful group that the sanctuary we currently worship in was built 150 years ago.
General Information
Sunday Worship Service: 10:00 am
Sunday School: 10:00 am.
Bible Study: Wednesday's 12:15 - 1:30 pm
Choir Rehearsal: Thursday's 7:30 - 9:00 pm
Sanctuary Healing Service: every 3rd Sunday of the month at 11:30 am. a Sanctuary Healing Service will take place. Prayer for the healing of body, mind and spirit. Whether you are in need of healing or you wish to pray on behalf of someone else, you are most welcome to join us.
117 Washington Spring Road
PO Box 687
Palisades, NY 10964
845-359-3147
ppc10964@gmail.com
www.palpresny.com
Please check out our new Facebook page!
www.facebook.com/ThePalisadesPresbyterianChurch
Pastor: Reverend Angela Maddalone
Secretary: Jackie Johanson
Office Hours: Tuesday and Thursday,
9:00 am to 2:00 pm