Update on the Palisades Cemetery
The Board of the Palisades Cemetery Association has been meeting regularly and dealing with the many tasks necessary to make the cemetery operational again. On May 16, as part of History Day at the Palisades Community Center, Carol Knudson will lead tours of the cemetery, starting at 10:00 am. We hope that many of you will take the opportunity to visit the cemetery and learn more about the former residents buried there. The grounds will have had their spring cleanup by that date, and if the flowers and foliage cooperate, you will see how beautiful the cemetery can be.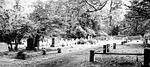 Many of you have asked us whether it is possible at this time to buy a grave in the cemetery. Before we can do that, we have to be sure of the location of previous burials and determine which gravesites already have been sold. Luca, the previous owner, did not always record the sales he made, and we want to be sure of these facts before we make any sales. However, we welcome enquiries and will start a list of those interested in buying gravesites. We will let you know as soon as they are available. Individual graves are three by eight feet, and are priced at $2000 a grave.
Thanks to the work of David Englander, we have obtained tax-free status from the IRS and contributions to the cemetery are now tax deductible, as long as they are for the maintenance of the whole cemetery and not for the maintenance of a particular lot or grave. We would like to repair the older stones, some of which are leaning or have fallen down, but this is expensive because it involves creating a new foundation. Now that contributions to the cemetery have become tax deductible, we hope that some of you will help us in this endeavor. Email palisadescemetary@gmail.com for more information.