DVine Bar
Dec 2014 - Issue 227
Hip. Cosmopolitan. Casually elegant…not the usual words attached to a suburban restaurant, but Joe Printz's DVine Bar in Sparkill earns the adjectives. This place is aesthetically a winner – and even better, it's full out Fun.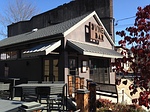 The cozy restaurant's sleek, fifty shades of grey interior invites with mellow lighting, a generously long bar and an attentive wait staff ready to let you linger - and linger you must if only to read Printz's witty menu. Selections are divided into Sixes (appetizers), Twelves (small plates) and Eighteens (entrees) with Ruffage, Pizzas, and Escorts (side dishes – get it?) thrown in for variety. It's a little confusing, but the haze clears when food arrives.
Seizure Salad, a clever deconstruction of the classic, is a gorgeous plate of big billowing leaves of romaine, a piquant lemon and anchovy dressing, thin toasted bread and a touch of Pecorino baked into a snappy salty wafer. Bacon and Eggs is an inspired take on breakfast for dinner. Braised slab bacon (think tender pot roast with bacon smokiness) cuddles up with a poached egg on toast and one of DVine Bar's best efforts, a tart crunchy slaw. The slaw appears hot as an Escort, and indeed, it is beautiful, sweet and sizzling.
Wordplay is just half the fun at DVine Bar. Chef Chris Holland mixes sophisticated dishes inspired by Mediterranean, French, Spanish and Italian flavors with imaginative renditions of American comfort food. Succulent Coriander Crusted Lamb shares the bill with Cornflake Chicken, (chicken thighs marinated in garlic and siracha, rolled in cornflakes, fried crisp and served with a blue cheese mousse) - a spicy take on Printz's romance with what he calls trailer park cuisine. Duck Au Poivre, a French/Chinese riff on crispy duck breast, sits next to good ol' Campfire Steak, an American classic served with blue cheese stuffed fingerlings and BBQ sauce.
If pizza is your thing, forget the greasy New York slice De Blasio eats with a knife and fork. Crusts are thin confections flavored with fennel seed, rosemary, wild rice and black bean and topped with exotics such as duck confit, brussel sprouts and pomegranate (The Daffy), or lamb sausage, feta and Kalamata olives (Greek Pie).
And even if you don't drink, check out the wine list. A Willamette pinot with rose hips and rhubarb-scented lips…some would say that doesn't even have to be uncorked to be savored. A sauvignon blanc from Uruguay described as cat pee and fresh pea shoots? Gotta try it. Or how about a Mendoza chardonnay - chubby and oaky. Like BUTT-ah!
All jokes aside, avoid frustration and call ahead to make a reservation. DVine Bar is reasonably priced with entrees topping out at $18 and Printz's irreverent humor keeps things comfy, relaxed and even feeling a little naughty. When's the last time you could say that about a night out in the burbs?
Open Tuesday through Sunday - 5pm to 10pm
Fridays and Saturdays until 11pm)
Lunch and Brunch coming soon
845 359-2141