IN OUR BACKYARD: BASQUE, TAPAS BAR AND RESTAURANT
Dec 2018 - Issue 243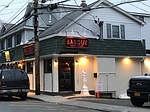 Piermont's newest restaurant, Basque, serves up the spicy, smoky, garlic-laced flavors typical of northern Spain, and much on offer is very good, but bland decor and vaguely clinical lighting kill any illusions of Latin romance. A pity since this was once the location of the charmingly funky Portofino. Owner and veteran restaurateur Benny Castro seems to be going for cozy and quaint for his tapas bar/ restaurant, but Basque feels generic, which doesn't do justice to the food and leaves one longing for a touch of the personal.
The tapas at Basque are, shall we say, American-sized so don't expect little nibbles. One order is plenty for three, even four, people to taste. Pace yourself. A standout is Chuletitas de Cordero a la Plancha, tiny marinated lamb chops best eaten with the fingers. These beauties are lusciously pink inside and perfumed with mixed herbs and garlic. Another goody is the marinated grilled shrimp (Gambas a la Plancha) The shrimp are moist and flavorful with a nice pop of garlic and smoky paprika. The fried artichokes (Alcachofas Fritos) should be crispier on the outside, and desper- ately need a liberal grind of salt, but the briny caper remoulade helps. Pimientos de Padron (blistered Shishito peppers) also need a hefty pinch of coarse or flaked sea salt. Skip the Burata y Remolacha (arugula, beets, and Mandarin oranges topped by a ball of fresh burrata cheese.) The burrata is nicely runny, but the salad is out of place at Basque, and the orange segments are tossed on the plate unpeeled and undressed like a Kindergarten snack.
Unless you're lingering at the bar, which by the way is awash in neon scarlet and turquoise from TV's tuned to sports (have I mentioned how much I hate screens in restaurants?), it's best to move straight to the main event: the Spanish classic, paella. Basque offers this traditional rice dish three ways: with seafood, with a combo of meat, sausage and chicken, or a vegetarian option with chickpeas, broccoli, tomatoes and artichokes. The seafood version is Instagram-ready with just-cooked-through shrimp, scallops, clams and mussels resting on a steamy pillow of saffron rice. A foodie friend tells me that a good paella should achieve soccarat, the crispy caramelized crust formed when rice meets metal pan over high heat during the last minutes of cooking. It adds a delectable chewy crunch to the dish, and bingo, Basque gets it done.
Thankfully, the food at Basque, along with friendly and attentive service, almost makes up for its lack of ambiance, but eating out is more than simply eating, and here Basque falls short. May I humbly suggest a few candles, warmer lighting and salt on the table? In the meantime, bring your appetite, and perhaps some tinted glasses for a tasty night out.