Lanni's Cucina Verace Italiana
Oct 2023 - Issue 263
In May of this year, Sparkill added another bright star to its tiny constellation of restaurants. Pocket–sized, packed and often distressingly loud, Lanni's isn't a fully successful moon shot, but several dishes hit the mark at this elegant eatery.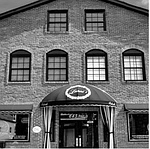 With decades of experience in the industry as a cook and an owner (mostly in Palm Beach, Florida), Naples–born chef Vittorio Lanni, and chef Vittorio Junior are the creative team behind Lanni's Cucina Verace Italiana. The father and son celebrate the cuisine of the twenty regions of Italy and have created a menu with the credo "Old School Peasant Dishes Fused with Modern Day Preparation." It's an ambitious goal for little Lanni's, and "Modern Day Preparation" sometimes translates into unnecessary fussiness, but it's a goal often met—especially with dishes hailing from Italy's southern regions.
Standouts are Sardine Beccafico (Sicilian stuffed sardines, $22), a generous sized appetizer of baked fresh sardines stuffed with a mix of breadcrumbs, escarole, mint and a few raisins. Moist and slightly sweet, this dish is the best of Lanni's on a plate; simple, high–quality ingredients thoughtfully prepared without flash or fanfare.
Also from Sicily is another hefty appetizer, Millefoglie Di Melanzane Alla Mamma Carolina (eggplant parmesan, $22). The thinly cut eggplant is enticingly soft, not overly breaded or greasy, and baked with San Marzano tomatoes that pop with flavor. Another simple winner is Carciofi Alla Romana (Roman–style artichokes, $24). Stuffed with garlic, herbs and a tad too many breadcrumbs, these beauties are braised in olive oil and white wine then served generously bathed in the delectable liquid. Spaghetti Alle Vongole (spaghetti with clams, $32) is pretty much perfect: pasta al dente and delicate baby clams slick with a briny sauce.
The Astice, Capesante, Foie Gras appetizer (butter-poached lobster, seared sea scallop and foie gras, $32) gilds the lily. The addition of butter and a bone marrow reduction to three already intensely rich proteins is too much of several good things. And the Vitello Tonnato (sliced braised veal loin with tuna sauce, $24) suffers the opposite fate by being blandly unmemorable.
Entrees are sized to impress and priced to match. Beef, veal, rabbit, duck, chicken and pork are all on offer with Pollo Alla Samantha (Scarpariello), sometimes called shoemaker's chicken, being the economical choice at $38 and a crowbar–size Cotoletta Di Vitello (Veal Chop) topping the list at $75. Every entree is super–sized (the waiter could barely negotiate getting the Cotoletta to the table), but restraint isn't the vibe at Lanni's.
Curated by Lanni Senior's wife and liquor business professional, Kimberley Auth Lanni, a large selection of Italian wines, beers, amaros and grappas adds to the hyperbolic party atmosphere. Patrons waiting to be seated can belly up to the tiny bar, order a classic Spritz or Negroni and watch grizzled servers, flushed and laden with plates, squeeze themselves between tables in a lumbering ballet.
Burnished brass, forest green walls and white linen tablecloths make Lanni's cozy and inviting, and it's thrilling that every table is full—even on weeknights – but the din is exhausting. Food this pleasing should be savored, not endured. Perhaps over time Lanni's might remove a table or two, streamline some of the "Modern Day Preparation" and let customers enjoy a beautiful meal without having to lip read or bellow across the table.
Lanni's Cucina Verace Italiana 645 Main Street
Sparkill, NY
Lanniscucina.com
(845) 470–2505