Mazadore Kebab
Dec 2022 - Issue 260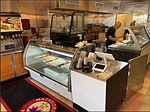 Mazadore Kebab is a happy surprise in dumpy Tappan. Open since August, this takeout spot for classic Afghan street food is a deceptive delight. Yes, there is marinated meat, chicken and fish stuck onto skewers and grilled, aka kebabs, but take a bite of Mazadore's succulent and aromatic kebabs and you've hit the Silk Road. Saffron, garlic, onion, spices and something tart, maybe dill, tenderizes the skewered chunks of lamb and chicken, and infuses every bite with delicate flavor. Nestled in white or brown Basmati rice, or, even better, Kabuli Palow - a divine melange of browned Basmati rice, raisins, carrots and almonds - these kebabs are fabulous, especially when drizzled with Mazadore's creamy, tart yogurt sauce. The Salmon Kebab ($17.95), a western adaptation probably unheard of in land-locked Afghanistan, is just as good and amazingly moist.
But there's more than yummy meat on sticks at Mazadore. Pumpkin takes on a whole new life in Quorma Kadu ($10.95): chunks of pumpkin spiced and sautéed into a complex dish with a little zing. And there's pumpkin a second way in tasty hand-held Boulanee Kadu ($3.95 for two); large triangular packets of thin dough filled with spiced pumpkin puree and fried. There's also Mantoo ($3.95 for two), a classic Afghan steamed dumpling stuffed with beef, onion and spices, and ladled with a light creamy sauce. Several variations of salads featuring chopped tomatoes and cucumbers balance the meat, and there's falafel as well.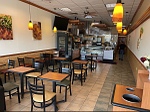 Mazadore operated on St. Mark's Place in Manhattan as Khyber Pass for 22 years until Covid hit, but clearly decades of NYU students knew a perfect kebab when they scarfed it. All the meat is halal (slaughtered in adherence to Islamic law) and the owner is a delight. I appeared one day just as he opened at 11:00 am to order an early takeout lunch, and I swear he rubbed his hands together like he couldn't wait to get going on his first order. Most of Mazadore's business appears to be takeout, but there is ample, albeit unglamorous seating available. Don't be deterred by the construction fencing covering the entrance as Tappan Plaza gets a face lift - Mazadore is open seven days a week from 11:00 am to 11:00 pm so, just like a stressed out undergrad, you can satisfy a kebab craving at almost any time. The city's loss is Rockland's gain and Mazadore's fresh, flavorful and reasonably priced food should not be missed.
29 Route 303, Tappan
Plaza (845) 680-6642
mazadorekebab@gmail.com