Rising Above Bakery, a Labor of Love
May 2023 - Issue 262
Rising Above Bakery was founded in 2021 in Shiri Reuveni–Ullrich's small Chestnut Ridge home. It all began when Shiri, a pediatric speech therapist and teacher at a Chestnut Ridge school who has baked all her life, started inviting her autistic students to her home once a week to join her in making cookies. At one point when she was out of the room, she noticed a humming coming from the kitchen. "I realized that these students, many of whom were nonverbal, had started finding their voice," Shiri recounts. The kitchen soon filled with chatter, singing, laughter and verbalizing as students became more comfortable with the work.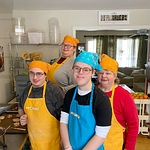 "I slowly realized that after schooling, there was nothing meaningful for young special–needs people. I decided to convert my dining room into a kitchen," she says, "and for two years we baked organic, locally sourced, baked goods like our specialty sourdough bread." Products were only sold online until nine months ago when Rockland Community College offered a space with a commercial kitchen and café at 5 North Broadway in Nyack to use until the college found a tenant. Rising Above Bread will be here, at least through the end of May, from Wednesday to Friday 11:00 am to 3:00 pm and on Saturday from 10:00 am to 3:00 pm, serving sandwiches, quiche, coffee, tea and a variety of baked goods. Shiri says, "It has been wonderful having the open space; it gives the bakers, after being in my small, enclosed kitchen, a sense of empowerment and pride interacting with the public."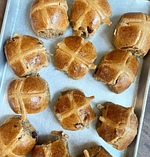 Shiri came to the States in 1997 from Israel to study speech therapy at Pace University, went on to get a master's degree in communication sciences and disorders from Long Island University and decided to stay. For over 20 years she has worked with children and young adults who were diagnosed with autism. Weekdays, she now rises at 4:00 am and makes her way to Nyack and the bakery to start assembling ingredients to make bread. She is soon joined by ten special–needs young adults and ten volunteers. "It's a labor of love," she says looking a bit exhausted. "We are a tight knit group. Food connects us."
Shiri recently appeared on NBC's Nightly News with Lester Holt talking about the bakery. "We raised $20,000 from that appearance," she says. "Our financial goal is $750,000. We have raised $70,000 so far. We need to find a permanent home. We plan to take on more bakers and produce lots more bread and baked goods. Our goal is to build a self–sustaining business, to secure a storefront location where we can develop a practical, financially viable service business that employs and imparts meaningful life skills to young adults with a wide range of developmental disabilities. We want to train bakers to acquire self–sufficiency through the craft of baking. I believe work experience for these bakers can open a path to a meaningful, productive life."
Baked goods can be ordered online and picked up at various sites. Donations are welcome. See their website, www.risingabovebakery.org or shiri@risingabovebakery.org. The bakery is a nonprofit organization.