Roots Food Truck
Oct 2019 - Issue 246
Foodies fiend for food trucks, and Rockland now has a fabulous one. A brightly painted throwback to the early 70s, this vegan food truck serves up seasonal, plant- based dishes that tease the palate and feed the soul. All ingredients are intensely fresh, and many dishes are raw, but don't get frightened, this is vegan cuisine everyone can love.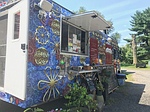 The guiding principle at Roots is to present food at the peak of its flavor with maximal nutritional value and minimal intervention. This means if there's mango in the Roots House Salad, it will be sweet, juicy and luscious. Chopped walnuts in the Timeless Tacos may not be recognizable, but as part of a medley of flavors and textures, they'll surprise and satisfy. The Pad Thai will be peanuty and laced with garlic, but noodles will be curly strands of zucchini slick with rich sauce and topped with a mound of crunchy red pepper, creamy avocado and slivers of sweet red onion. It's all part of an ethos to serve wholesome delicious food that challenges notions of what we need to consume in order to feel satisfied.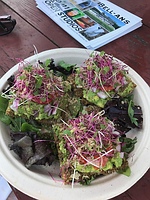 Roots started as a side business for owners Jodi Sardonis and Dean Orfis when they wanted to offer healthy, post-workout snacks for patrons of their Northvale gym. The smoothies and energy bars were such a hit that they expanded to a mobile food truck for music festivals and other events. Now they've found a semi-permanent home for the truck at the Bell-Ans Creative Arts Center compound.
It's a great location for this earnest venture. The Bell-Ans communal vibe is in the air, a badminton net beckons in the field, and local advertisements for guitar lessons, open mic nights and yoga classes flutter in the breeze. Sink into funky seating flanked by potted herbs, and tuck into the Beyond Burrito (crispy lettuce, Roots' signature guacamole, and smoky cashew nut cheese wrapped in a sweet and spicy plantain wrap.) As the occasional friendly farm animal wanders by, enjoy a mini pleasure trip for the senses, and be grateful that Roots is committed to nourishing its customers in mind, body and soul.
Roots is a natural for lunch, but the truck is open until 8pm weekdays (7pm on Saturdays), and take out is very popular. As the weather cools, indoor café seating is in the works.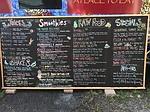 Roots Food Truck and Café
103 South Greenbush Road
(Turn right off Route 303 at Mountainview Avenue and follow signs)
9:00am to 8:00pm, Monday – Friday
10:00am to 7:00pm, Saturdays
Closed Sundays
(201) 401-5813, rawrootscafe.com