Restaurant Mazagan
Dec 2021 - Issue 256
Restaurant Mazagan
506 Piermont Avenue
845) 580-3600
restaurantmazagan.com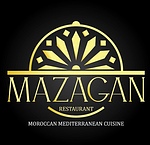 I wanted to love Mazagan. Truly. A Moroccan Mediterranean restaurant offering homey tagines, aromatic couscous and grilled kebobs, and plunked around the corner in the cozy former home of Peter Kelly's Xavier's in Piermont? Perfect, right?
Not quite, but close.
If restaurants are judged solely on their bread, Mazagan is right up there with its warm, fluffy rounds of pita: the perfect delivery system for the Mazagan Sampler of silky smooth hummus, delicately flavored babaganoush and a robust muhammara dip of walnuts, red pepper, garlic and breadcrumbs. At $16.95, it's a lovely beginning, particularly if you've remembered to bring along a bottle of your favorite wine. They will happily uncork.
Traditionally, couscous and tagines are meant for sharing and this is true at Mazagan. The Moroccan Chicken Tagine ($29.95) is a full half chicken stewed with onions, garlic and briny green olives, and delivered (though I suspect not cooked) in a traditional ceramic tagine dish. It's easily enough to satisfy two. Succulent and falling off the bone, the only thing missing is the pungent hit of garlic and preserved lemon I associate with a chicken tagine. It's good, but a little too safe. The Traditional Lamb Shank Tagine ($34.95) is similarly bland with nary a hint of spice or prune to punch up the richness of the lamb. Presumably, this is a signature dish, but it isn't shining the way it should.
And similar to its meaty counterparts, the Home Style Veggie Couscous ($23.95) is an artful pile of root vegetables in need of a sauce, a sear, some spice - something to give it some kick.
Not so for the Grilled Lamb Chops ($32.95). Served with steamy saffron rice, a cornucopia of roasted vegetables and a creamy tahini sauce on the side, these chops are dynamite. Moist and peppery, this is lamb at its unadorned best.
There are seafood tagines and numerous kebobs on the menu I've yet to try, but I'll happily return for the hummus alone. Talk of the town says the Trio Kebob (shish kebob (lamb), kofta kebob (ground beef and lamb) and chicken kebob) is worth its $64.95 price point, and I'm curious to try something called Chicken Briouate; chicken with almonds baked in phyllo pastry.
Mazagan has so many pluses. The room is inviting. The food is comforting. The staff could not be nicer, and honestly, after the last year and a half, every restaurant deserves props for staying open and staffed, but I suspect Mazagan will need to up its flavor game to survive. That said, they accept online orders and deliver to our area via Seemless, Door Dash and Grub-hub.