The Food Scene Heats Up in Piermont
Oct 2022 - Issue 259
Fall is here, and no matter what sneaky Covid variant comes down the pike, something's UP in Piermont. After rough years of empty restaurants and shuttered doors, three new eateries are open on Piermont Avenue, and another is slated to open soon. All four are backed by restaurateurs and chefs with decades of experience in the hospitality business and an appreciation for Piermont's quaint allure.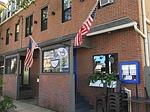 The tiniest of the newcomers is Sabi Sushi, a 20-seat elegantly serene boîte created by owner and chef Doug Nguyen.
Nguyen's DNG Restaurant Group was hit hard by the pandemic and he was forced to close four New York City locations, but he's rising again in Piermont with a menu of fresh and beautifully presented sushi and sashimi, a large selection of multi-ingredient rolls, elaborate Omakase (chef 's choice), and a few of the dishes originally created for Wasabi, the Nyack restaurant that first brought attention to Nguyen's creative Asian fusion cuisine.
Sabi Sushi's menu is smaller and more refined than Wasabi's, and for my money, the appetizers and small plates are the place to look for Nguyen's most imaginative and successful dishes. One standout is the Blow Torch Scallops ($19), paper thin slices of raw sea scallop just barely singed with heat and served with a salty, citrusy dipping sauce. The thin, tangy sauce is a perfect foil to the buttery sweet of the scallop. Cucumber Salad ($17) is a roll more than a salad with crab, tuna and shiso leaf encased by thin strips of cucumber and served with a slightly sweet vinaigrette. The play of dark pink tuna, white crab, pale green cucumber and flecks of dark green shiso is painterly, and each distinctive flavor and texture gets its moment on the tongue. Pork Dumpling Soup ($8) might just be a perfect snack for a chilly day with two diminutive dumplings bobbing a hearty miso-based broth, and humble Gyoza ($14) offers six tender packets filled with vegetables or pork and fried to crispy goldenness on two sides, with the third left steamed and soft. Dip these lovelies into their briny sauce and there will be no complaints. One disappointment is the Wagyu Carpaccio ($25). The lightly seared strips of beef are juicy, but disappointingly bland, even when slicked with a piquant ponzu sauce.
If you like your sushi rolls bundled like fiber optic cables and topped with sriracha or mustard sauce, you'll undoubtedly find something to love on Nguyen's menu, but…not my thing. I also didn't try Sabi Sushi's pricey entrees ($28 to $42), partly because I don't go to a sushi restaurant for seared duck or pineapple shrimp, but mostly because, let's be honest, who needs teriyaki chicken when there are small plates as beautiful and satisfying as these?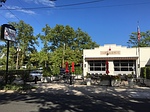 Another new kid on the block is Otto's Full Service, a glamorous reboot of Piermont's 1920s era Shell gas station. The welcoming bar and sleek interiors are studded with nostalgic nods to the building's gritty past, and Otto's chef Phil Iannuccilli describes the menu as "a celebration of American cooking but with a multicultural approach." At Otto's, this translates into some successes and some abject failures.
Two terrific dishes feature a nod to Asian influence. Peking Duck Chips ($16) is an appetizing snack of savory duck and spiced cucumber mounded on squares of fried wonton. It's borderline greasy, but pairs well with Otto's mostly-too-sweet and not-alchoholic-enough cocktails. The Vietnamese Noodles ($26) lack the fire of traditional Vietnamese soups, but fluffy pork meatballs are nestled in rice noodles and buoyed by a rich beef broth. Prosciutto di Parma ($18) gives a loving nod to Italy with fresh figs, goat cheese, salty prosciutto, and tiny rosemary almond biscotti that crumble perfectly in the mouth.
The more traditional American fare is uneven at best. Cornmeal Fried Oysters ($16) are deliciously crunchy on the outside, creamy on the inside and perked up with a Cajun style remoulade, but Memphis Spareribs ($32) are unrecognizable as barbeque with dry, tough ribs slathered in a sweet one-note BBQ sauce and accompanied by gooey creamed greens and chunky hushpuppies.
Sigh…look away Dixieland. Even basic Stuffed Chicken Breast ($29) struggles. The flavorless breast flounders with a goat cheese and pine nut stuffing marred by tough undercooked spinach. Otto's Full Service is stylish and inviting with lots of outdoor seating, live music some nights, and friendly, attentive service, but its aspiration to have something for everyone is an overreach.