In Our Backyard: Café Trois
Oct 2017 - Issue 238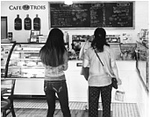 Three bakers have banded together and opened a charming breakfast and lunch spot on Livingston Street where The Greek Village used to be. Café Trois specializes in French style pastries, artfully packaged sandwiches and salads, and a variety of brunch dishes beautifully presented with salad and home fries. There's also a full array of lux coffees, teas, smoothies and juices.
A ladies-who-lunch vibe wafts through this clean, bright spot packed with smartly dressed women, mothers lunching with daughters, and a smattering of couples. It's easy to breeze in and out for a coffee and sandwich to go, but so pleasant you may want to linger. Croissants, meringues and crème brulee gleam from glass cases like gems, but there are also exotics: Earl Grey Yuzu laced scones (Yuzu is a citrus fruit cultivated in Japan, Korea and China), and Bourbon Vanilla Puff Choux. Prepared sandwiches include chicken salad studded with dried cherries, egg salad with slices of cucumber tucked inside, and smoked salmon with a smattering of capers. There are also crusty baguettes, gorgeous cakes, and cute bags of tiny cookies to take home if you think your waistline can handle it.
Café Trois truly excels, however, with their hot breakfast and lunch dishes. A few standouts are the Croque Monsieur; a heavenly pile of melted cheese and ham on a thick slice of buttery grilled bread that will keep you fueled for hours, and omelets so fluffy you won't realize you've polished off half a dozen eggs.
This is a surprisingly elegant little place for humble Northvale, and definitely worth a venture over the border. The prices are fair for the quality, and portions are generous, but given how delicious everything is, you may want to get a little exercise before you visit.
Café Trois
8:00 am – 9:00 pm every day
201-660-7686
Catering available