Goodbye to Xavier's & Freelance Café
Dec 2016 - Issue 235
It's the end of a special chapter in local culinary history. After almost thirty years, on October 26 chef Peter Kelly stepped away from the helm of his critically acclaimed and locally beloved Piermont restaurants Xavier's and Freelance Café.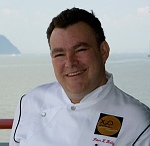 "Everything has a life span," says Kelly, "and I think it was time for me to pull back a little." It was a difficult decision for Kelly. He feels a special bond with Piermont, and describes the months before and after the transition as "an emotional roller coaster." Not surprising since the opening of Xavier's jump-started Kelly's career, and spearheaded a Piermont renaissance.
When Xavier's opened in 1987 (Freelance opened two years later), Piermont was a sleepy post-industrial town known best for its long deep-water pier and a grungy local watering hole featuring folksy bands and mediocre food. Xavier's was a jewel box by comparison. Tables were dressed with fine china, crystal and fresh flowers. Luxuriously portioned dishes arrived elegantly plated with rich ingredients new to many American palates such as foie gras, snails and bone marrow. Service was impeccable. Four stars from the New York Times and an almost perfect score from Zagat cemented Kelly's reputation as an innovator of modern American cuisine.
But the true magic ingredient at Xavier's and Freelance was Kelly's irrepressible warmth. "My restaurants are built around me and my relationships with the guests," says Kelly, and his connections with patrons in Piermont have remained particularly close. "As a business owner you can only hope to have such a dedicated and loyal clientele," he says.
But Kelly oversees two other restaurants; Restaurant X in Congers and X2O in Yonkers. He also runs a thriving catering business and there's a long list of charity events, TV guest spots, a line of wines from Napa and a vodka from Slovenia. Something had to give. "I do have a wife," Kelly says, "and she likes to see me sometimes."
When Seattle restaurant owner Jason Wang approached Kelly about buying the Piermont building, Kelly decided the time was right to sell. Wang will retain the Xavier's name for six months, and then move forward with his own project.
"I don't want this to be an obituary," says Kelly. "I hope people will recognize it's a short ride to Congers (to Restaurant X). We'll be waiting for them when they come."