Local Produce a Short Drive Away
May 2012 - Issue 217
You'll find Stokes Farm tucked into a suburban neighborhood on DeWolf Road in Old Tappan just off Tappan Road. It was one of the original twelve farms that participated in New York City's first Greenmarket in 1976, a concept of urban planners Barry Benepe and Bob Lewis. Their mission was to provide a vehicle for small family farms to sell their products directly to consumers and present New Yorkers with access to the freshest, most nutritious locally grown food the region has to offer.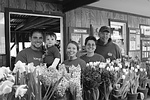 The affable Ron Binaghi Jr., an impressive fifth generation farmer, runs Stokes Farm with his wife Jeanine, their son Ron III and wife Christina. The farm dates back to 1873 when Isaiah Stokes, upon his arrival from England, purchased forty acres of land in Old Tappan. He sold chickens, eggs, milk, vegetables and hay. Isaiah's son Joseph and his wife Anna succeeded him; they developed a distribution route through Piermont, Nyack and north along the river and were one of the first farmers in the area to own a truck.
Joe and Anna's only child Madeline then ran the farm while her husband Ernie Binaghi, who she married in 1927, worked as a carpenter. In the early 50s their only child Ronald dropped out of NYU music school to help out at the farm. He married Jean and in 1955 the two opened a roadside stand at the entrance, which was expanded ten years later. They had one son, Ron Jr. With the energy crunch of the early 70s, there was a good chance the farm would not survive. In 1975, Bob Lewis paid a visit to Ron Sr., inviting Stokes Farm to be part of New York City's first Greenmarket, located at 59th Street and Second Avenue. A forward thinking guy, Ron decided to give it a shot. Residents welcomed the farmers with open arms. That first day when everything on the truck quickly sold, Ron was heard to marvel, "Is there a famine in New York City?" It changed their lives. When the Union Square Greenmarket opened on 17th Street, Stokes Farm was there too.
Greenhouses were constructed on the farm in the 1980s and the bedding plant business started to thrive. By now Ron Jr. and his wife Jeanine had taken over the day-to-day operations. In 2000 Ron Jr. was named Outstanding Young Farmer of the Year in New Jersey and placed fifth in national competition. Ron Jr. and Jeanine have four children. Ron III, like his grandfather, left music school to become a farmer. He is now a partner and runs a Greenmarket stand at Lincoln Center. His wife Christina also works on the farm. In October 2010 Ron IV was born.
When Ron Jr. was asked what he likes best about farming he recounted, "I get a great deal of satisfaction seeing a product go from tiny seed to someone's plate and I don't miss a thing in the lives of my kids because I'm always around." But farming demands a total commitment. "We work 60 to 85 hours six days a week," he says. They have a full time crew of four plus part timers when needed. "While we can manipulate plant growth by delaying or speeding it up, Mother Nature is in control. There is the frustration of nurturing a crop for months only to see it destroyed at maturity by rain, hail or frost within 24 hours." With all the rain in June and July of last year, their tomato production was down 40 percent.
Today Stokes Farm consists of seventeen acres with 40,000 square feet of greenhouses. Asparagus will be ready the beginning of May followed by strawberries, garlic, lettuce, squash blossoms and Swiss chard. There are vegetable plants for home gardeners and, with five acres devoted to herbs, a large selection to choose from including four varieties of basil, chamomile, cilantro, lavender, lemon verbena and sage. May and June flowers include dahlias, geraniums, impatiens, begonias and daisies.
Wide assortments of vegetables are harvested throughout the summer; then there are the tomatoes. In 2010, Stokes Farm's Aunt Ruby Heirloom tomato came in first in New York Magazine's blind taste test. Ron describes it as "green with a pinkish tint at the bottom and so sweet it tastes like a melon." Aunt Ruby is only one of the twelve varieties of tomatoes Stokes Farm offers.
Stokes garden center is open from 9:00am to 6:00pm seven days a week for the spring season. Toward the end of June the center closes for several weeks then reopens from 11:00am to 6:00pm Tuesdays and Fridays throughout the summer. Stokes Farm has a stand at the farmer's market in River Vale, N.J. on Thursdays and three NYC Greenmarket locations (Union Square, Lincoln Center and Tribeca).
It took little time for top restauranteurs Danny Meyers and Jean-Georges Vongerichten to discover Stokes Farm at the Greenmarket. The farm's produce now graces the tables of leading NYC restaurants like Bar Boulud, Blue Hill New York, Gotham Bar and Grill, Gramercy Tavern, Jojo, The Spotted Pig and many others. For more information go to their website, www.stokesfarm.com, and watch for a new blog Ron Jr. will be writing.