From Nyack to Northvale: The Legacy of La Casa Formoso
May 2013 - Issue 221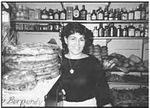 "Salumeria" is Italian for a cured meat shop and they may be found in larger cities but we are lucky enough to have one close by in a small town. La Casa Formoso, a New York City style deli in Northvale, is such a place. Here, customers can find quality meats, cheeses, pastas and olive oils not available in local supermarkets. They use old pasta recipes from Brooklyn and get the best sausages from Arthur Avenue in the Bronx. Fresh ravioli (never frozen) is delivered a couple of times a week from Pastosa Ravioli, a franchise with seventeen stores in New York City and the bread is delivered fresh from the Bronx, Manhattan and Queens. The store also has a bakery feel to it with cannolis and cookies made to order moments before you get them.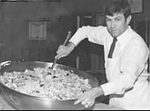 The current owner, Dean Benasillo, bought the store eleven years ago when he was single. Now, he has a wife and three children. See what Italian food does to you! Dean is a very charitable man. He says yes to all fundraisers and no to all politicians.
The legacy of this deli started back in 1973 when the original owners from Calabria, Maria and Tom Formoson opened it. Previously, it was called Cassetta's. When it came up for sale, Tom was a landscaper and Maria was in electronic work in Palisades. At the urging of Joe D'Ercole, the nursery owner in Northvale, the couple bought the place for $500 and borrowed the rest from family. To save money, they moved from Nyack and lived upstairs over the shop for the first five years while putting in fifteen hour days downstairs.
Meanwhile, Maria's mother was helping to raise Joey, their first child, who has Down's syndrome. There is no question in Maria's mind that this challenging experience strengthened their marriage. A further challenge came when Maria's father was tragically hit by a car by someone who had no insurance. He was given twelve hours to live. He actually lived ten years and Maria and Tom almost lost the store while paying for all the medical bills themselves. Later, when Tom was diagnosed with leukemia he fought it and sixteen years later he is still in remission. In 1993, they built the stores next to the deli as rental income properties. They went on to have two more children, Thomas and Michelle. All this left both Maria and Tom emotionally stronger which translated into a love for people and life. This is why Maria still stops by on weekends to help out. "People here are not customers," she said, "They are friends."
Maria's friends in Palisades go back a long way. With the help of Lorraine Bracco and Edward James Olmos, among others, they raised money through charitable auctions for the Spectrum of Life Foundation, a non- profit organization dedicated to the philosophy that "persons with developmental disabilities have the same rights as others to a fulfilling and meaningful life."
Maria and Tom Formosa's "fulfilling and meaningful life" will be reaching a milestone this year with the celebra- tion of their 50th wedding anniversary in July. To think it all started back in 1918 when Maria's mother's brother came on a ship here by himself knowing no one. Maria came in 1956. Tom came in 1958 and 150 people later, they are still going strong.