In Our Backyard - December 2011
Dec 2011 - Issue 215
Murasaki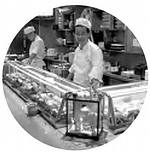 I have to confess; eating out in Nyack is something I generally avoid – especially on weekends. But that's changed since the opening of Murasaki, a modest home-style Japanese restaurant where everything, if not always artfully served, is fresh, fresh and fresh. The décor is simple, almost non-existent in fact, with a small sushi bar and about ten tables. No hi-tech lighting or fussy tablescapes here, just tasty and sometimes vaguely Americanized food. In fact, the relaxed simplicity makes me wonder if this is how a mom & pop place in Kyoto might feel - that is, if mom or pop had spent some time in the States and weren't sticklers about authenticity… or aesthetics… or doing anything more than serving really good food at fair prices.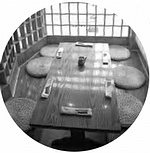 Not surprisingly, Murasaki offers a healthy selection of sashimi, sushi and the obligatory list of cutely named rolls, but I only tried the Yellowtail sashimi (very fresh and as good as some I've had at pricier establishments) and a California Roll (again, simple and fresh). Instead, in the name of research, I concentrated on the Appetizers From the Kitchen list, which, while not particularly unusual, offers a few less seen Japanese staples. The Edamame arrived properly steaming and sprinkled with coarse sea salt. The shrimp in my companion's Shrimp Tempura was firm without a trace of the dreaded old-oil taste. Standouts, however, were the melt-in-the-mouth tofu and delicate broth of a silky and lightly battered Age Dashi Tofu. Harumaki, described as a homemade spring roll, was a perfect non-greasy meld of crispy fried outside and flavorful fresh inside. And a buttery Wa-gyu beef was brought sizzling to the table glistening with a barely sweet ginger-miso-sake sauce. That one could change the mind of anyone pondering a vegetarian diet. There was also a humble Soba Salad, a combo of Japanese- American green salad (Iceberg lettuce, tomato, cucumber, carrot and daikon) layered with cold, al dente buckwheat soba noodles and dressed with ginger, sesame oil and mirin. I've had this salad (minus the soba) many, many times and this was by far one of the best versions I've tasted.
The kitchen appears to be easily overwhelmed by large groups, but the service is attentive and friendly, albeit not always speedy. Lunch, or a light dinner for two including a glass of nothing-special wine (probably best to stick to beer) runs about $60. A full-blown dinner for two with appetizers, a large sushi or sashimi combo and sake, wine or beer, runs closer to $75. These aren't cheap eats, but the quality is good and the experience is worth the money when you're craving fresh, no fuss Japanese cuisine.
Murasaki
138 Main Street, Nyack, NY 10960
(845) 358-3222
www.murasakinyack.com
Harrington Park Market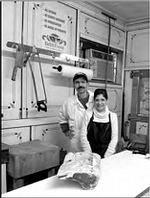 An easy ten minutes away (especially armed with a GPS) is Harrington Park Market, a butcher shop more or less unchanged since 1939. But forget the pressed tin ceiling, the massive butcher blocks worn scalloped and smooth with use, the Art Deco filigrees painted on white enameled cabinetry, even the authentic McCaskey register used to run monthly tabs for regulars - the thing that really keeps this place in touch with the best of another era are the owners, Joseph and Melanie Matzelle.
Joseph Matzelle's father, an Austrian trained butcher plying his trade for 60 years, bought the Harrington Park Market in 1980 on the condition that Joseph would one day take it over. And even though Joseph had gone to work for Con Edison straight out of college and his wife had balanced a 32-year career in banking with a catering business on the side, the years of helping Dad in the shop won out. In 2002, they bought the market from Joseph's parents, moved into the apartment above and went into the butchering business full time.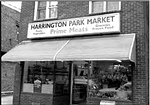 The Matzelles clearly love every vintage detail of their store. Joseph demonstrates how the surface of an 18" thick butcher block is scraped clean with a stiff wire brush, carefully whisking away the dust with a special little broom. He explains that the block's graceful curve isn't by design—there's no one left with the expertise to level it. Nonetheless, it still does the job. In deference to today's health codes, however, a long plastic cutting board, cleaned and bleached daily, is also used, but the jury is out on which surface is the more hygienic. There's a walk-in meat locker, where hunks of dry aged beef, cuts of Schaller & Weber pork and fresh Bell & Evans chickens rest in chilled splendor on shelves designed back in the day to accept blocks of ice cut from Rockland Lake. "Old things still work the best," says Melanie with a smile, "some things just don't change."
But perhaps what the Matzelles value most is their connection with their customers. "We talk to people…find out what they need," says Melanie. "It's like a family." They sell Melanie's ready-to- serve homemade food for customers with no time to cook, give advice on recreating a recipe from a restaurant or cooking show, even offer fresh salmon and sole on Thursdays and Fridays for the non-meat eating set. "Everything is made to order. You want chicken cutlets…we make them here. Chopped meat…we grind it here for you," says Joseph. And right on cue, a phone order comes in for four hamburgers. Melanie grinds the meat, Joseph pulls out one of two specially made hamburger forms to make perfectly sized patties and everything is rung up, wrapped and ready for pick up in about four minutes. That kind of service is so old-fashioned it's new again, and it's right here in our backyard.
Harrington Park Market
98 LaRoche Avenue, Harrington Park, NJ 07640
(201) 768-0615. Tues. – Sat. 8:00 am to 6:00 pm