In Our Backyard: Dino's Restaurant
May 2016 - Issue 233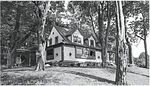 Thirty years ago Dino's might have been a fine night out. Perched on a hill, aglow with twinkle lights, this quaint house-turned-restaurant would be destination primo for a fancy meal - birthdays with mom, meet-the-in-laws - you know the scene. But Americans have gotten more sophisticated and a restaurant has to do more to impress.
For starters, the brick red interior, faux stonework, and fake flower arrangements are dreary. The russet gloom could be someone's idea of romantic, but the place has a disheartening man cave vibe heightened by shelves of bottles sporting painted pin up gals, and a portrait of Marilyn all tousled and come hither gazing out over the dining room like the patron saint of Bring It On. It's unsettling when a dining room feels like the perfect crash pad for your creepy uncle who came to visit fifteen years ago and never left.
Great food would sweep away the must, but Dino's doesn't fully deliver there, either. The Meatless Eggplant Balls appetizer ($10.50) is almost inedible. The mound of tasteless mush stuffed with equally tasteless mozzarella and slathered with heartburninducing red sauce distresses on all levels. Acorn Squash Raviolo with Cremini Mushroom and Sage Sauce ($21) is better. Delicate oversize squares of homemade pasta encase a sweet squash filling nicely balanced by earthy mushrooms. The best dish of the evening was the Olive Oil Poached Pork "Ossobucco" (their spelling) ($25). Tender lean meat literally falls off the bone into a lovely mélange of pappardelle noodles and vegetables. Missing is an extra level of flavor, say, a handful of rosemary or thyme thrown in during the braise.
It's fair to say the food at Dino's suffers from a lack of that culinary magic when seasonings underpin and bolster the main ingredient without overwhelming. The pork "Ossobucco" almost succeeds, and if I can brave the atmosphere, I'll return to try the Pappardelle Short Ribs Ragu ($22.50), Rigatoni Bolognese ($20), or the Braised Short Ribs ($26).
A serviceable wine list and attentive service make Dino's a decent experience, but with entrees priced between $25 and $30 it should be better. Even Italian American cuisine can benefit from a closer look at the culinary traditions it derives from. What felt luxurious back in '95 doesn't feel so fresh today.
12 Tappan Road, Harrington Park, NJ (201) 767-4245