In Our Backyard: Hinode
Oct 2016 - Issue 234
In the popular documentary Jiro Dreams of Sushi, there are innumerable gauzy tight shots of glistening morsels presented reverently to the camera by master sushi chef Jiro Ono. This will not be your experience at humble little Hinode, but nonetheless, prepare to be pleasantly surprised.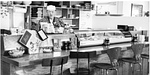 Wedged next to the Sparkill bridge, and practically in the middle of Route 9W, this family run pit stop defies geographic disadvantage as it serves up Japanese specialties with friendly efficiency, affordable prices, and a little bit of style.
The basics reveal the most. At Hinode the sushi and sashimi are fresh and uncomplicated. The tempura is light and not greasy. Teriyaki dishes are delicately flavored (meaning not too sweet), and the miso soup is perfect.
Lunch is a big draw and features bento boxes with petite portions of teriyaki (beef, chicken or salmon), gyoza, salad, and tempura. With a top price of fourteen dollars, The Full Moon Lunch Box is a good value and a satisfying meal.
There are plenty of rolls with funky names such as the Las Vegas, the X-File, and the Godzilla— sometimes one will appear at your table gratis —but even a purist won't be disappointed by Hinode's selection of beautifully prepared classic sushi and sashimi assortments.
Like Jiro Ono's world-class restaurant in Tokyo, Hinode is small and unassuming. There are about six tables clustered around its tiny sushi bar, and that seems to be big enough as one never feels crowded or rushed.
Hinode doesn't offer up the sushi Jiro dreams about, but it's a sweet little reverie for lunch, dinner, or take-out.
Hinode
55 Route 9W
845-359-4003 Closed Sundays