In Our Backyard - Giostra
Mar 2015 - Issue 228
Giostra
65 Old Tappan Road
Tappan, NY
845 848-2575
www.giostrany.com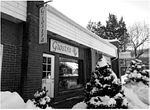 If restaurant success is measured in decibels, then Tappan's Giostra is doing well, but the simple Italian fare on offer doesn't often hit the same peaks as the noise level.
Formerly The Commissary, and before that The Village Grille, Giostra's interior is a sleek overhaul by designer Brenda Kilgore. Dark neutrals, forest green upholstered banquets and cream-colored tablecloths add a whiff of sophistication, but Kilgore's best move is a bar nestled comfortably at the back of the restaurant. Even with a flat screen TV flashing overhead, a bad day can be discreetly softened with a cocktail and no one's the wiser.
In the dining area things get rougher. Tables are tightly packed into the small space so, like it or not, your neighbor's story is yours to listen to. With a full house, it's a lot of sound. But no worries, there are nice olives to nibble on and plenty of moderately priced wines to choose from. Or, if you feel the need to impress, there's a $90 Brunello.
The menu includes standards such as Eggplant Parmesan, Penne Vodka and Fettuccini with Sausage and Peppers along with a few stabs at diversity: Sesame Crusted Tuna and Roasted Chicken with Quinoa, but the focus is traditional Italian (or Italian American, depending on who you talk to). Three veal meatballs with fresh tomato sauce and shavings of ricotta salata cheese are moist, uncomplicated and satisfying – enough for a light meal. Braised short ribs are tender, flavorful and unexpectedly accompanied by delicately fried asparagus. But a poor little Mediterranean langoustine is grilled close to desiccation, and there's a hint of freezer in the lump crabmeat appetizer that a perky wasabi tinged aioli can't hide. A beautiful plate of saffron linguini with clams and cherry tomatoes promises a meld of sea, sun and spice, but even with peppery fresh arugula wilted into the mix, there's no depth to the flavors and it's simply bland.
Giostra is the first joint venture of brothers Dario and Marino DiSaverio and both have plenty of experience in the business. Dario learned restaurant management from his father, owner and operator of Tre Scalini and Gian Marino in New York City, and Marino was Executive Chef at Tappan's Il Portico.
The brothers have gotten many things right at Giostra; great service, warm atmosphere and comfortable, more or less reliable fare, but it's frustrating when food comes this close to being really good. The brothers' stated goal is to serve "traditional Italian food with a modern twist." A little more attention to the subtleties of what's on the plate could be the twist Giostra is missing.