In Our Backyard: Restaurant Swad
Dec 2015 - Issue 231
Rockland County isn't exactly a hotbed of South Asian cuisine, but quirky little Swad is doing its best to educate us one creamy curry at a time. Or, at least, to win us over with home style Indian classics as interpreted by owner and head cook, Ashwani Chirimunj. The results are mixed, and as in a family kitchen, there's heart in what's good and carelessness in what's not.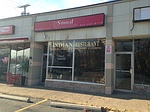 Formerly Mark's Ooh La La Yum in Norwood, New Jersey, Swad opened in Tappan about a year ago. It's a tiny Spartan place with the ambience of a bus station waiting room, but it's clean and it is easy to order take-out ahead by phone or online. But let's talk about the names, shall we? Swad doesn't trip off the English speaking tongue, but it translates as "tasty," so – fair enough. Mark's Ooh La La Yum? That suggests some humor at work. The Mark part is an acronym of various family names, and Ooh La La Yum is Chirimunj's father's name (Lala Som Dutt ji) mashed up with French and English expressions for exuberant tastiness. Convoluted maybe, but it all simmers down to a menu of simple Indian dishes that tell us something about the heart and mind of Chirimunj - I'm guessing he has a bit of a wacky streak.
Wacky or not, I can safely tell you this; Chirimunj has a way with stewed meats and chicken. Royal Goat Curry, Lamb Korma or Chicken Rogan Josh spooned over perfumed basmati rice positively warm the soul with fork tender chunks of meat or chicken simmered into savory spiciness and softened by a touch of sweet. Chirimunj can jack up the heat for the fearless, and crunchy pickled onion along with delicately spiced raita cool and complement each bite. This is comfort food Indian style.
A small green salad comes with every entrée, but oddly, no dressing. If you're at home, a dash of olive oil and a squeeze of lemon do the trick, and the greens are a refreshing addition. Another successful complement is a smoky and piquant Grilled Corn Salad.
Vegetarians will be pleased with Chirimunj's Chana Masala, a rich chick pea concoction with onions and ginger, and with Eggplant Curry, a deeply flavorful blend of roasted eggplant, onions, tomatoes and peas. Alas, if as much care was taken with deep fried and grilled dishes, then Swad would be a real find. Kofta Lamb Kabobs were dry and over salted, same with the grilled shrimp in the Shrimp Saag (shrimp with spinach and spices), and the Mixed Vegetable Pakoras (deep fried patties of potato and other vegetables) were semi-burnt and greasy.
There is much on the menu I have yet to try, but with entrees priced from 14 to 20 dollars, and sized to serve two, I suggest skipping the bread, appetizers and anything cooked over an open fire (Tandoori style). Go with what Swad does best – tasty, slow cooked food made to warm the heart.
Swad
80 Route 303
Tappan, NY 10983
Monday – Saturday, 11am – 3pm, 5pm -10pm
Sunday, 4pm – 9pm
(845) 680-6116