In Our Backyard: Roost Reopens
May 2015 - Issue 229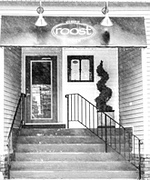 When Roost Restaurant opened in the summer of 2013, it was one of a handful of Rockland eateries serving seasonal ingredients prepared with imagination and flair. Commuters and locals flocked to the Sparkill restaurant's long granite bar and cozy tables for drinks, dinner, and an easy end to a long day.
But in January of 2014 a space heater caught fire in an upstairs apartment. Four families were left homeless and the restaurant was devastated by smoke and water damage. "We were in business for seven months and out of business for thirteen," says chef and co-owner Kevin Reilly. Now Roost is back on its perch above Depot Square. After a full renovation, Chef Reilly and partner Maria Santini again offer a soft spot to land for an evening's meal. The menu is Reilly's unpretentious take on new American cuisine, meaning fresh, relatively local ingredients prepared with a sprinkling of global influences. Bar snacks, small plates and entrees are sized for all appetites so you can eat alone or share with friends.
Here are a few items I'll not be sharing: Hashed sweet and tangy brussel sprouts braised with ginger and maple syrup. This dish will challenge the most determined sprout hater. Order at least two.
A Bronzino special with crunchy sautéed bok choy. The flavor is so bright and full of citrus you'll swear you're growing new brain cells.
The Slab Bacon with Guava-Rum BBQ and Crispy Shallots. Perilously close to over-sweet bar food found from sea to shining sea, nonetheless, decadently delicious and, no, you may not have that last bite.
Reilly and Santini have taken cues from Peter Kelly's Freelance Café & Wine Bar in Piermont where repeat offenders are embraced like family. Creamy tablecloths and chocolate brown walls washed with amber light put friends and food front and center. Wait staff is friendly more than flashy, and quietly competent.
Settle in at Roost for an hour or an evening. Weekends are crowded, but if you come on a Monday or a Wednesday there's a good chance chef Reilly will break out the homemade limoncello.