THE BINGE WATCH: Deutschland 83
Mar 2018 - Issue 240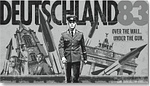 If you like your Cold War spy stories thick with betrayal, vivid with acid greens and spiced with a little sex, then you'll enjoy Deutschland 83, an eight episode series set in the divided Germany of 1983 where no one can be trusted and the honorable seldom survive. This Peabody Award-winning series is a fascinating watch – an eerily relevant history lesson interwoven with familial conflict worthy of a Greek tragedy.
Our protagonist is Martin Rauch, a baby-faced East German border guard recruited unwillingly by the HVA, the foreign intelligence agency for the Stasi. His job is to gather NATO intelligence while posing as a West German army recruit, a mission that quickly introduces him to the fascinations of fast food, stocked grocery shelves and Duran Duran piped through a Sony Walkman. It also puts him in the crosshairs of a nuclear showdown. By the end of the season one, Martin's life, and everything else, is at DEFCON 5.
Deutschland 83 is the creation of American writer Anna Winger and her German-born husband, TV producer Joerg Winger. The couple wanted to create a drama set in Germany when the country was a pawn between the US and Russia - tensions were at their peak, and the threat of nuclear annihilation was very real. Archival footage, a slick 80s soundtrack and spot-on costuming expertly capture the era, but the most potent detail is the quaintly clunky hardware littering every surface. It is solid evidence of just how technologically long ago the 80s were. But Winger didn't want to simply recreate the time. She said in a 2017 interview with IBC 365, an online bulletin, "the goal was always to make it heightened, to make it metaphorical and like a real adventure show."
To that end, the show clicks along with plenty of classic spy intrigue: secret codes, bugged rooms and dead drops in sneaky out-of-the-way places, but the characters' moral dilemmas are more profound than any gadgetry. Even through the gloss of TV drama, fear and paranoia erode every intimacy, and survival requires tragic compromise.
Don't be scared off - this series is meant to be entertaining - and it most certainly is, but Deutschland 83 is in German with English subtitles so watch when you are alert. You won't want to miss anything and it's worth the effort. Season 1 is streaming on Hulu, and Season 2 (Deutschland 86) premiers later this year on Sundance TV.