The Binge Watch: Succession
Oct 2018 - Issue 242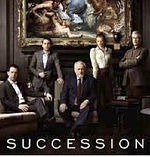 As any playwright will tell you, there's no drama like family drama - especially when it's a clan of one per-centers lusting for money, power, and parental approval, not necessarily in that order. Set in the glittering towers of New York City, that's the premise of HBO's Succession, a tangle of scheming, emotionally fragile kin jockeying for keys to the empire – in other words, Dynasty for the new millennium.
This plot may sound a little worn at the edges, but given the antics of our current First Family, and the strang- er-than-fiction histories of, say, the Kennedys, the Murdochs, or the Windsors, it is totally absorbing and weird-ly prescient. The patriarch, Logan Roy (Brian Cox), lords the power of his media empire over his four timorous children like a great white cruising the ocean for blood. The children: Connor (Alan Ruck), Shiv (Sarah Snook), Kendall (Jeremy Strong) and Roman (Kieran Culkin) grapple with their father's malevolence with avoidance, rebellion, competition and subservience, respectively. When Logan suffers a stroke, third wife Marcia (Hiam Abbass) enters the fray and alerts the kids that she's capable of far more than holding his hand. (Melania T – you may want to watch Marcia at work for some tips.) Even hapless cousin Greg (Nicholas Braun) is a stealth force to be reckoned with in this familial cockfight.
Creator Jesse Armstrong, the British comedy writer behind the BBC political satire The Thick of It, has jazzed the 10 episode series with darkly comic writing and a visual style reminiscent of The Office and Arrested Development. The herky jerky camera is annoying at first, but it lightens the tone and saves Succession from self importance. Even familial dynasties need a little humor.
Succession is slow to boil, but boil it does. In spite of a predictable turn of events in the season finale, this drama leaves us panting for more, and because almost every character is a soup of Shakespeaean self-doubt, there are enough tangential plot lines to last a few seasons. Neighborhood watch alert: former Palisades resident Juliana Canfield plays Logan Cox's secretary, the beleaguered Jess, a Hope Hicks figure trying to stay alive in this nest of vipers.
If you want to feel better about your own family dramas, binge on Succession before Thanksgiving. After watching the Roys in action, you'll sit at the holiday table thankful no one's coming for you with a lawyer or a carving knife. À votre santé!