Difficult Decisions for County Choral Groups
Oct 2021 - Issue 255
More than 54 million Americans belong to choral groups. A recent study by Chorus America found that people who sing together experience a number of personal benefits, from stronger relationships and better social skills to increased optimism, resilience, mindfulness and even improved health.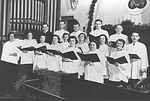 For the last several years I have belonged to the Main Street Singers, a choral group of about 30 members led by Judy Gorman and based at the Rockland Conservatory in Pearl River. In March, 2020, when we suddenly realized how easily group singing could spread Covid, we stopped meeting. This spring, with all of us vaccinated, we began meeting again outside at the home of one of our members. We stopped for the summer, and now our director has decided that we will continue outdoor meetings through October, or as long as the weather allows; at that juncture the group will determine a prudent next step.
A number of Rockland County choral groups are also struggling to deal with the current situation, solving the problem in different ways. I recently spoke to Brandon Beachamp, director of the Grace Church Choir, which is part of the Episcopalian Archdiocese of New York. The group, consisting of 23 to 26 members, was founded in 1886 and the choir's repertoire includes music from the Renaissance to the Romantic eras, as well as music by contemporary composers.
Members have been encouraged to get vaccinated, but not asked about their vaccination status. Grace Church is now open for services and during August members of the choir were performing quartets, with members masked, eight feet apart, at services. No cases of Covid have been diagnosed in the choir. Starting in September, the full choir, wearing surgical masks, will sing at church services. Although the masks muffle the sound a bit, the audience doesn't seem to notice the difference. If vaccinated and masked, they have determined that they won't need spacing.
The Rockland Camerata, a group of about 40 members, was founded in 1978. Matthew Rupcich is currently its conductor and music director. The Camerata performs both sacred and secular music, often with guest singers, and has scheduled two live performances for next year, one in January and one in June. Members have to be vaccinated to attend the bi-monthly rehearsals and for now will be masked. The group is looking for a larger rehearsal space that would facilitate more social distancing.
Under the direction of Drucilla Pluhowski, the Nyack Community Chorus had been rehearsing at the First Re- formed Church, in Nyack. After the church decided not to continue the arrangement, the group found rehearsal space at Grace Episcopal Church. They will all be vaccinated, singing with masks and distancing as much as they can. The chorus is composed of two ensembles, one of them a smaller group of women with more musical skills. No performances are planned at the moment: Dru says the group is feeling its way through the current situation. One problem is that some members are reluctant to come back because of concerns about Covid and their families. A little more than half of the members are ready to return, with the rest intending to re-join as conditions improve.
All of these groups have websites if you are interested in learning more about them. If you love music but don't play an instrument, you can use your voice as an instrument in a choral group. I can testify that it's a very rewarding experience.