The Thrill of the Chase
May 2023 - Issue 262
Were you one of those determined individuals last spring in pursuit of a diminutive piece of artwork done on the face of a postcard? Were you constantly visiting the Palisades Library's website to follow the bidding status of your desired card and perhaps even sitting in front of your computer ready to pounce with the closing bid on a drawing, painting or photograph as the Library's Silent Auction came to a close?
You have another chance to purchase a work of art this spring with the Library's Second Annual Secret Postcard Auction. Be part of the excitement, experience the suspense of who did what card, not revealed until after the auction closes. And, best of all, you will be supporting our beloved library. Last year, these miniature treasures were created by a wide range of locals from recognized artists to students. Donna Grasso, a teacher at the Tappan Zee High School, asked her students to participate in the auction. One of the most popular cards was done by one of her 16–year–old students. A bright red cat with a striped tail, it received 57 bids, finally selling for $91. The Library leased the image for tee shirts and totes so you can have a copy of it for your very own.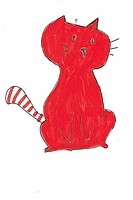 This year the postcards up for bid will be displayed in the library's second–floor community room. Be sure to check out the wide range of art to decide which one — or more — you can't live without. Bidding starts online on May 17 at the Library site. The Library made $7,282 last year. With your participation we can hopefully bring in more this year. Winning bids will be determined on May 24.