The Binge Watch: Ozark.com
Dec 2017 - Issue 239
Gore-spattered and gristle-laced, this ten episode Netflix series is a fun and satisfying watch with surprising plot twists, colorful characters, and performances that push stereotypes towards authenticity. Marty Byrde (Jason Bateman) is a Chicago investment manager unwittingly embroiled in a money laundering operation for a Mexican drug cartel. His wife Wendy (Laura Linney) enjoys her own secret life until the cartel intervenes and the couple has to pack up their two kids and head south to wash a dirty $8 million – fast.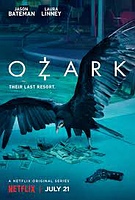 A crumpled brochure sends them to the shores of Missouri's Lake of the Ozarks, a massive man-made lake with 1,150 miles of shoreline sometimes known as the Redneck Riviera. Turkey vultures circle overhead as the carcass count rises, and the Byrdes thrash through the steamy summer.
Ozark is serious territory for Jason Bateman who has worked non-stop in film and TV since 1981, most notably as Michael Bluth in the beloved TV series Arrested Development. He is executive producer of the show and directed four of Ozark's ten episodes. In several interviews he states that screenwriter Bill Dubuque's script (The Accountant, The Judge) was the best thing he'd ever read, so he pushed hard to control the final product.
The result is lush, dewy visuals, dark plot twists and diamond sharp performances. Laura Linney speaks paragraphs in nano-seconds with a minute facial twitch, or more broadly in a mom meltdown moment when she berates a convenience store clerk in escalating volume that mint ice cream is green and has little bits in it, but It Is Not The Pistachio They Said They Had. Bateman is excellent as the beleaguered Everyman in a tight spot. Julia Garner is a stand out as the wicked smart trailer trash thief Ruth Langmore, and Esai Morales is sly, sexy and refreshingly complex as Del, the ruthless drug dealer.
But Ozark is an ensemble show, and every character propels the plot forward through a briny, diesel-spiked funk as events play out along the serpentine curves and twists of the lake. It is definitely worth a binge if you want to see terrific writing, gorgeous visuals and crack performances light up the small screen. Ozark is renewed for a second series, and season one is streaming on Netflix now.