LILIANE TOMASKO, A FORCE OF NATURE
May 2022 - Issue 258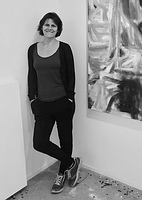 The Hopper House Museum is currently displaying forty abstract works by acclaimed artist Liliane Tomasko. Titled "Liliane Tomasko: Evening Wind," the show was curated by Palisades resident Faye Fleming, projects director of the Sean Scully Studio.
The new exhibition takes its title from Edward Hopper's haunting 1921 etching, Evening Wind, of a woman seated on an unmade bed. The image of a bed is one Hopper turned to throughout his professional life. Liliane's art not only shares an expression of self with Hopper, but is also strongly linked to the bed. In an interview in Artlyst she says, "I am attracted to ideas of the interior, as manifested in the unconscious, in dreams and sleep. The bed in particular, with all its implications of hosting humanity's most impacting events, has been a great source of inspiration for many years. I have used the drawings of unmade beds as an underlying structure for my paintings since roughly 2014. These are the constant elements in my work, the lines that are extracted from the sleep-ruffled bed linens and carried onto the canvas in spray, oil or acrylic as structures that hold everything in place."
The day before the show opened, I paid a visit to Liliane at her Tappan studio, which she shares with fellow artist and husband Sean Scully. I was welcomed by Charlie, a rescue dog. Liliane was waiting for me; I found her friendly, unguarded and articulate about her work. Her monumental painting for an exhibition in Ireland dominates the ample space. It's the first time she has done a work this size, and her bold strong forms are well suited to it. Exuberant uninterrupted slashes flow effortlessly across the painting, weaving in and out of strong bright colors. Assertive brushstrokes are combined with less focused sections, creating a sense of depth. Soft-edged spray paint in grass green nestles along borders of forms, adding an accent.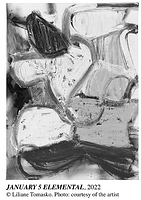 Liliane paints on canvas, linen, canvas paper and aluminum. "You have to work harder on canvas for colors to come alive; it's easier on aluminum, they glide across the surface," she relates. "I transitioned to acrylic because oil isn't healthy." The exception is oil sticks, which she uses for smaller works on paper. "These sticks keep me in touch with oils; they have a different density." She adds, "I always work on paper, no matter what else I'm doing." A number of paintings in the show are done on paper. Liliane titles most of her paintings after they are completed, explaining, "They provide another access to my work." Liliane Tomasko in her Tappan studio
I asked about her use of black. "Color is pretty; black grounds color, it adds brutality. I occasionally go to monochromes to reset my eyes," she says. With the Covid lockdown, Liliane started a series she calls Hold on to Yourself. The stark images on paper made with black oil stick are occasionally relieved with a touch of color, promising a glimmer of hope.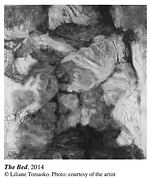 Her early work was figurative with a suggestion of the abstract - the earliest in the show is the dark, brooding Last Light Lex, painted in 2008. Through the years her images transformed and blurred, finally becoming distinctly abstract. This transition occurred in 2013 when her husband became addicted to Oxycontin after a serious back injury. The two sequestered themselves as he went through three agonizing months to clear his system. Emerging from this solitary confinement, they determined to make changes in their work. "I decided to go back to the theme of the bed. My work became more confrontational and volatile, more linear, more cubist. Freely drawn lines began to dominate, they had a life of their own." The painting The Bed, a 76" x 70" oil on linen painted in 2014, which is in the show, was a turning point.
"I began exploring wilder things manifested in my life, unlocking feelings, fears and desires not part of our consciousness during the day, but that become illuminated at night. They came out of my disturbed teens. I fell apart emotionally; my life had no structure. When I was twelve my parents divorced. I went through a few rough years haunted by bad dreams. When I moved to London…when I was 24, to attend art school… the dreams stopped. Becoming an artist, the part I couldn't understand fueled my art."
Born in Zurich to Hungarian parents in 1967, Liliane graduated in 1995 with a BA degree from Chelsea College of Arts and Design in London, and then received a master's degree from the Royal Academy of Arts in 1998. Her paintings, exhibited in galleries and museums throughout the U.S. and internationally, are also in museums and private collections here and abroad. She and her husband divide their time between the U.S., Germany and France. In addition to her show at the Hopper House Museum, which runs until July 24, she has solo shows this year at the Nathalie Karg Gallery in New York, and the Highlanes Gallery in Drogheda, Ireland.
We sleep where we fall, a comprehensive book of Tomasko's art over the last twenty years, came out in April. There's also an 80-page illustrated exhibition catalog available. There will be a gallery talk with the artist and a guest curator on April 27 6:00pm to 7:30pm.
Hopper House Museum is at 82 North Broadway in Nyack. It is open Fridays from 1:00pm to 5:00pm, and weekends from 12:00pm to 5:00pm. Weekday appointments are available by emailing info@hopperhouse.org.