Little Known Films: I Know Where I'm Going! (1945) United Kingdom, 91 minutes.
Oct 2015 - Issue 230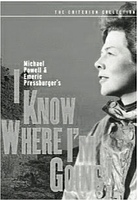 From Michael Powell and Emeric Pressburger, the writing and directing team who brought you The Red Shoes, comes their personal favorite and least known work. I Know Where Im Going! is a dizzyingly delirious blend of romance, comedy, adventure, mythology, mysticism and folklore.
Ambitious Joan Webster (Wendy Hiller) knows where she's going - to one of Scotland's remote Hebrides islands, to marry a rich industrialist, whom she doesn't love. Nature has other plans for her, however. Bad weather prevents her from reaching her destination, leaving her stranded on another island, and throwing her together with a dashing naval officer, Torquil MacNeil (Roger Livesey), and an assortment of eccentric islanders.
Joan is a complex character whose desperation to fulfill her goal - marriage to a wealthy industrialist - ends up risking not only her future happiness, but the lives of herself and others. So strong is Hiller's performance that although Joan is sometimes insufferable, we warm to her as she gropes towards self-knowledge.
In Hiller's opening scene she's telling her father, a middleclass bank manager, that she's leaving town that very evening to be married. When he asks who the groom is, she shows him her works pass for Consolidated Chemical Industries. She may not be able to marry Consolidated Chemical Industries itself but she can do the next best thing and marry its chairman, Sir Robert Bellinger. They're to be married in the Hebrides, as she puts it "away from… people." When her father protests that Bellinger is as old as he is, she replies, "And what's wrong with you, darling?"
Her motives are perfectly clear and perfectly deplorable; Bellinger is her ticket into the cocooned life of the filthy rich, where timetables are planned out in advance, everything is arranged, and absolutely nothing ever has to be done for oneself. She crosses the threshold at the train station when one of Bellinger's factotums hands her a neatly typed itinerary.
Powell and Pressburger make Joan's shallow venality abundantly clear in a dream sequence while she's on the train. After fantasizing about being literally married to Consolidated Chemical Industries, she envisions her life to come inside a bubble made from the plastic that encases her wedding gown, surrounded by lots and lots of money.
The film is so stunningly photographed that the bleak and moody moors of Scotland have never looked so good. The finale that will keep people talking is a perfect embodiment of what all came before, and Powell and Pressburger give the audience exactly what they want, but in a way they don't expect. In a movie with a mad British falconer, a giant whirlpool, and Petula Clark, you're probably wondering what could possibly be unexpected.
Well, I'm not going to tell you. You can find out for yourself on Wednesday October 7, 7:00pm when the Palisades Library hosts a free showing of the film with a discussion afterwards.