Water, Water Everywhere
Dec 2013 - Issue 223
So was it love at first sight? I asked Palisades resident Joanne Barak. After she and her husband Tuvia had seen a collage at Andrew Goffe and Jeff Levin's home down by the river done by renowned local artist Christina Biaggi they commissioned her to create a similar collage for their new Palm Beach condo. "No," Joanne answered, "but I distinctly heard music in my head when I first walked in and saw Christina's collage wrapped around a large column off the main hallway." It was a stormy day and her seven by twelve foot mural, appropriately titled, "The River," captured the mood of the Hudson River out the window just beyond it.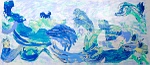 "We wanted something not so stormy," Joanne went on, "brighter and more tropical for our new Palm Beach place." The result is "The Ocean," which has a palette of cobalt, aqua and green, colors reflected in the Florida ocean at various times throughout the day. The finished work is eight feet by four feet. "I would have liked it even larger but this is what will fit in the elevator," she added.
When I asked Christina how the series began she said her daughter had strongly urged her to pare down her studio, suggesting she tear up her old work and create something new. "I started with black and white patterns on paper, cut out forms and glued them to large sheets of paper then sent them off to Ceres, my gallery in New York City. To my surprise four of them were sold. This inspired me to create similar ones in oil on canvas that were more pliable and permanent," Christina said.
Using an assortment of mops, brooms and toilet brushes, she painted great slashes of swirling color, then cut the forms out and pasted them onto large sheets of canvas. I visited her studio just before Joanne and Tuvia's collage was to be packed and shipped south to a framer. Having grown up a block from the ocean, I know its many moods well from its calm demeanor to its unbridled fury. Christina had ably captured its energy, its movement and its beauty.
Christina is having a show at the Renaissance Gallery, 208 Mountain View Avenue, Orangeburg throughout December. Gallery hours are Tuesday to Friday 11:00am to 4:00pm and Saturday noon to 4:00pm. In September of 2014, Christina and her brother Gianni Biaggi who is based in Switzerland, will have a joint show at the Outside In in Piermont.