The Binge Watch
Oct 2017 - Issue 238
There is a lot to watch out there if you like your diversions intense, provocative, and addictive. Netfliks, Hulu, Amazon Prime, HBO, Showtime, FX, Starz, podcasts, and yes, even network TV, all compete for your ears and eyeballs, and with today's technology, an entire season of content can be lapped up in a single marathon session known as a binge watch.
You've been there; back to back episodes of The Crown into the wee hours, whole seasons of House of Cards without bathroom breaks. It's a brave new world of visual content, neighbors, and this column is a heads up for new ways to embrace the zeitgeist.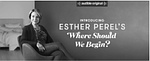 We'll open with a bang. The audio series Where Should We Begin with sex therapist and author Esther Perel is a ten-episode foray into the sexual frustrations, challenges, and revelations of ten couples during a one-time extended counseling session. True reality is riveting, and in the words of the series opening, "the stories and voices are real."
Are they ever.
The conversations are so exposed, so raw, that visuals are unnecessary. Perel interprets the couples' patterns and peccadillos so masterfully that anyone who has ever been in a relationship will recognize aspects of themselves or their partners in every episode. The couples are straight, gay, lesbian, transgender, young and old, but every story speaks to the human challenge of being attentive, caring and adventurous while in a committed relationship. If you have a whiff of interest in how to be a better sexual partner, how to listen, how to forgive, or how to be respectful of someone you love, this series will not disappoint.
Word of warning: Perel uses colorful language, and talks frankly about human anatomy and sexual practices, so you may not want to tune in while young kids are around – unless you're up for some very challenging conversations.
Where Should We Begin is available on Audible, and can be downloaded for free if you have Amazon Prime. Find a twelve-year-old to help navigate you through the fussy process of downloading the Audible app, opening your Prime account to download the episodes, and then accessing them on your phone through the Audible app. It is worth the irritation.