BOOKS & GREETINGS RECEIVES GRANT FROM AUTHOR WILLIAM PATTERSON
May 2014 - Issue 225
Books are the quietest and the most constant of friends; they are the most accessible and wisest of counselors, and the most patient of teachers.
Charles William Eliot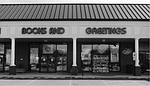 Books & Greetings, located at 271G Livingstone Avenue in Northvale, opened on July 7th of 2007. In addition to the latest "must-read" books, there's a greeting card section, a well stocked toy department, and an assortment of gifts such as lotions, candles, candy and stationery. Owners Kenny Sarfin and wife Michele who live in Tappan, chose the Northvale Square mini-mall because it provided ample parking. Sarfin had previously worked in Manhattan at a family-run Hallmark store that had been in business for 49 years.
Like many of the small businesses in the community, Kenny has struggled to survive competition from large retailers, online sites, and eBooks. One of the people who is deeply concerned about the loss of small independent bookstores is author William Patterson. Patterson who has sold a staggering 300 million books with nineteen consecutive novels ranked number one on the bestseller list, decided to help by giving away $1 million in mini-grants of $2,000 to $15,000 to small neighborhood book sellers that have children's sections. These grants can be used in any number of ways from updating computer systems to making structural improvements.
The first installment of grants was awarded to 55 bookstores this past February. Books & Greetings was the only independent New Jersey bookstore on the list. Sarfin, who grew up in Englewood Cliffs and believes strongly in supporting the community, plans to use the money he receives to purchase books for Dwight Morrow High School where he and Michele graduated, as well as two other Teaneck schools.

Kenny is a showman at heart. He loves bringing a wide range of celebrities into the store for talks and book signings. Leading sports figures, top chefs, TV and movie stars, and even well known preachers have all crossed his threshold. These have included Henry Winkler, Julie Andrews, Bill Cosby, Walt Frazier, the Nellys, Mike Tyson, Joel Olson, Marie Osmond, and many of the Real Housewives crew. Tiki Barber and Jane Green visited in April to promote books and Mariano Rivera and T.D. Jakes are coming in May. For the kids, there are costumed characters – the Easter Bunny made a recent appearance. "In the fall, we give away apple pies from De Pieros Farm with a purchase of $50," Sarfin added.
You can usually find the affable Sarfin, who works seven days a week, at the store. He is always happy to suggest a book. "What's the hot book everyone is buying now?" I asked. "Me Before You, by Jojo Moyes and Unbroken: A World War II Story of Survival, Resilience, and Redemption, by Laura Hillenbrand," was Sarfin's response. For older kids he recommends The Divergent series and for younger ones, The Wimpy Kids series. Stop around and say hello and pick up a book or two while you are there. Supporting these local stores goes a long way to keep them from going the way of the dinosaurs.